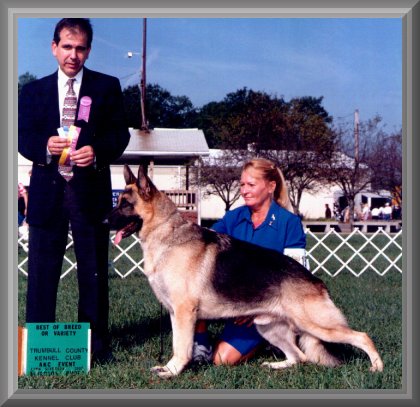 "Mickey-D"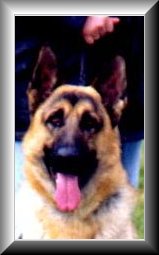 At the Butler County KC show Mickey won his first Point, owner/breeder/handled!
Then onto his next show at the Trumbull County KC show he won Winners Dog, Best of Winners and Best of Breed!!
Mickey would like to thank his new co-owner, Pat Lukos for her interest in him!

Sadly I lost Mickey Feb. 22, 2008
Pedigree

Sire
Ch. King's Hot Copy OFA
Sire
Ch. Amber's McCraken D'Lors OFA
Sire
Am. Can. GV. Ch. Prime Time of Billo
Dam
Amber's Dana
Dam
King's Phoenix Von Bleibtreu OFA
Sire
Sel. Ch. Proven Hill's Up N Adam ROM
Dam
Bleibtreu's Questa of Kaleef
Dam
Von Charisma's Gone With the Wind OFA
Sire
Covy-Tucker Hill Hyclass Sun OFA
Sire
BIS Ch. Bramblewood's Custom Made OFA ROM
Dam
Covy-Tucker Hill's Tomboy Ily
Dam
Ken-Delaine's Alvita
Sire
Ken-Delaine's Primero V Omni OFA
Dam
Bramblewood's Diedre V Nochee


Copywrite 2009 All images on this website are copyrighted and may NOT be used without expressed written consent of Von Charisma German Shepherds