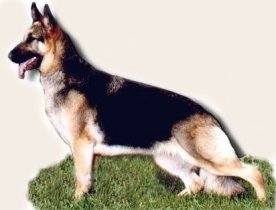 Covy-Tucker Hill Hyclass Sun OFA x Oakdale's Tuff Enough

Sabia is my first home bred Champion! She is from a litter of 11, the whole litter was very uniformed. I knew she was something special when she was 4 weeks old. She was a very outgoing puppy and when I video taped the whole litter at age 5 1/2 weeks she was the only one out of 11 pups that wouldn't behave!!
Sabia, was a challange in the ring because she has a mind of her own! She loved to get in the ring and tell the judges "Look at me" ,but sometimes she would be a wild child and wanted to run around the ring instead of gaiting pretty like a Lady! When she had a good day in the ring she was very hard to deny! It was a lot of fun and a excellent learning experience showing my girl "Sabia" as a owner/breeder/handler!
Sabia has always been my constant companion, she sleeps beside my bed and lays on HER couch! She usually goes everywhere with me if she can keep her mouth shut! She always has a LOT to say!
She IS and always will be my Best friend, I'm VERY proud to have bred her.
There will never be another "SABIA"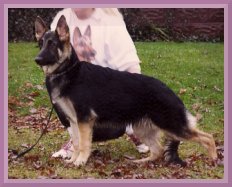 Von Charisma's Destiny
4 months old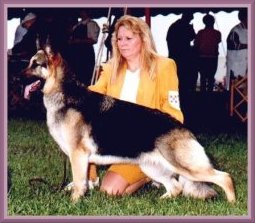 Sabia & me

Ch. Von Charisma's Destiny
Pedigree

Covy-Tucker Hill Hyclass Sun OFA
ROM points
BIS Ch. Bramblewood's Custom Made OFA ROM

CH Nochee's L-Sting of Towaco ROM

Diamond Jade of Bramblewood TT ROM

Covy-Tucker Hill's Tomboy Ily

SEL AM CH Covy's Mazarati of Tucker Hill OFA ROM

Covy-Tucker Hill's Simba

Oakdale's Tuff Enough ROM points

CH Brentaryl's GunnerROM ROMC

SEL CH (US & CAN) Stuttgart's Sundance Kid OFA ROM ROMC

CH Stonekroft's Josie ROM

Oakdale's Lady Secret

Cherpa's Lotto v Fircrest
Rio Valle's Laura