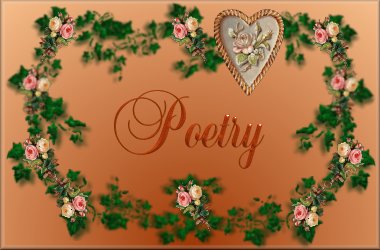 "Bet You Can't Own Just One!"

Why own a dog? There's a danger you know,
You can't own just one, for the craving will grow.
There's no doubt they're addictive, wherein lies the danger.
While living with lots, you'll grow poorer and stranger.
One dog is no trouble, and two are so funny.
The third one is easy, the fourth one's a honey.
The fifth one delightful, the sixth one's a breeze,
You find you can live with a houseful with ease.
So how 'bout another? Would you really dare?
They're really quite easy but oh, Lord the hair!
With dogs on the sofa and dogs on the bed,
And crates in the kitchen, it's no bother you've said.
They're really no trouble, their manners are great.
What's just one more dog and just one more crate?
The sofa is hairy, the windows are crusty,
The floor is all footprints, the furniture dusty.
The housekeeping suffers, but what do you care?
Who minds a few noseprints and a little more hair?
So let's keep a puppy, you can always find room,
And a little more time for the dust cloth and broom.
There's hardly a limit to the dogs you can add,
The thought of a cutback sure makes you sad.
Each one is so special, so useful, so funny.
The vet, the food bill grows larger, you owe money.
Your folks never visit, few friends come to stay,
Except other dog folks, who all live the same way.
Your lawn has now died, and your shrubs are dead too,
But your weekends are busy, you're off with your crew.
There's dog food and vitamins, training and shots.
And entries and travel and motels which cost lots.
Is it worth it, you wonder? Are you caught in a trap?
Then that favorite dog comes and climbs in your lap.
His look says you're special and you know that you will
Keep all of the critters in spite of the bill.
Some just for showing and some just to breed.
And some just for loving, they all fill a need.
But winter's a hassle, the dogs hate it too.
But they must have their walks though they're numb and you're blue.
Late evening is awful, you scream and you shout
At the dogs on the sofa who refuse to go out.
The dogs and the dog shows, the travel, the thrills,
The work and the worry, the pressure, the bills.
The whole thing seems worth it, the dogs are your life.
They're charming and funny and offset the strife.
Your life-style has changed. Things won't be the same.
Yes, those dogs are addictive and so is the dog game!!
-Author unknown
__________________________________________________________________

"Only A Dog"

Do you remember thinking it was time that the kids learned some
responsibility and scanning the newspaper ads for a cheap dog
for sale? Do you remember bringing home this little ball of
shivering fur and putting her out in the yard on a chain that
was too heavy on a night that was too cold? Of course you don't
remember this. After all, she is only a dog.

Do you remember this baby crying because she was afraid and
alone? Do you remember screaming at her to be quiet and finally
going out there to kick her to drive home the lesson? Of course
you don't remember this. After all, she is only a dog.

Do you remember the many times you noticed her water bowl was
empty and her food bowl was covered with mold and thinking that
it was the kids' job to take care of her? Do you remember
seeing that her coat was dull and lifeless and, in many places,
chewed away down to the skin because of the parasites no one
took the time to rid her of? Of course you don't remember this.
After all, she is only a dog.

Do you remember her first heat and the neighbor's male visiting
her night after night? Do you remember thinking that letting
her have the puppies would be a good experience for the kids?
Do you remember that every one of those pups died because their
mother was no more than a puppy herself? Of course you don't
remember this. After all, she is only a dog.

I know you remember the animal control officer coming to the
house, accusing you of animal cruelty and taking her away
because you couldn't understand what all the fuss was about.
After all, she is only a dog.

I thought you might be interested in how this girl is doing
today. You see, once she found a home that gave her love,
attention and proper care, she blossomed into a beautiful, loyal
companion. To these people, she is much more than only a dog.

She became a therapy dog and now goes to nursing homes and
hospices where she brightens the lives of the infirm and dying.
To some of these people, she has given hope. To others, she's
given them a reason to keep living. To even others, she's given
them the will to die peacefully, with a smile on their lips. To
these people, she is much more than only a dog.

Just last week, she helped find a little boy that was lost in
the woods. She spent a long, cold winter's night, lying over
him to keep him warm and risked her own life to protect his. To
this little boy and his family, she is much more than only a dog.

What is the difference? Why did that filthy, flea-ridden animal
chained in your backyard suddenly become so important to so
many? Because she never gave up her trust in people and she
never once thought, "After all, he is only a human."
______________________________________________________________


"OLD DOG IN A LOCKET"

Old dog in a locket
That lies next to my heart
I will always love you
As I did right from the start

You were right beside me
Through the darkest of my days
It was your kind and gentle nature
That made me want to stay

Now I hold you in my arms
Your breath still warm against my hand
Our hearts still beat together
And I wonder if you understand

Through the hours that I held you
Before the light did leave your soul
I knew a way to keep you
Forever in my hold

I snipped the hair from around your eyes
So I would always see
The beauty that surrounds me
Even in times of need

I snipped the hair from around your ears
So I would always hear
Music in the distance
To quiet any fears

I snipped the hair from across your back
To bring me strength in times of need
And the power of your essence
Would Always be with me

I snipped the hair from around your heart
That beats in time with mine
So I would know that love would find me
At some distant time

And so, your life slipped out of mine
On a quiet, spring-like day
But I knew that a part of you
Was always here to stay

Old dog in a locket
That lies next to my heart
I will always love you
Even though we had to part
_________________________________________________________________


"AT THE END OF THE RAINBOW BRIDGE"

WHEN I WOKE UP THIS MORNING I FELT VERY ODD
I DON'T KNOW WHY , BUT I FELT CLOSE TO GOD
THE SUN WAS SHINING, THE BIRDS WERE SINGING
THE MUSIC WAS SOFT, THE BELLS WERE RINGING
AND ALL THE PUPPIES WERE ROMPING AT PLAY
WHAT A PLEASANT START OF A WONDERFUL DAY

I REMEMBER LAYING DOWN TO TAKE A NAP
I REMEMBER I HAD MY HEAD IN HER LAP
I REMEMBER THE SAD LOOK IN HER EYE
I REMEMBER I HAD NEVER SEEN HER CRY.
I REMEMBER I WANTED TO ASK HER WHY
I REMEMBER HEARING HER SAY, "GOOD BY"

I WANTED TO SAY, DON'T CRY FOR ME
I WANTED TO SAY, JUST REMEMBER ME
I WANTED TO SAY, I REMEMBER THE TOYS
I WANTED TO SAY, I REMEMBER THE JOYS
I WANTED TO SAY, I LOVE YOU SO MUCH
I WANTED TO SAY, HOW I LOVED YOUR TOUCH

OH PLEASE LET ME HUG YOU
OH PLEASE LET ME KISS YOU
OH PLEASE LET ME TELL YOU
WHAT AN ANGEL YOU'VE BEEN
OH PLEASE LET ME THANK YOU
FOR SHOWING ME HIM

I KNEW WHEN I WOKE UP, THERE'D BE NO PAIN
I KNEW IF I WANTED, I COULD PLAY IN THE RAIN
I KNEW THAT I WOULD REMEMBER
THE LOVE YOU GAVE ME FOREVER

YOU'VE TAKEN CARE OF ME ALL MY LIFE
YOU'VE GUARDED ME FROM TROUBLE AND STRIFE
YOU'VE TAKEN CARE OF ME THRU GOOD AND BAD
YOU'VE ALWAYS STOPPED ME FROM FEELING SAD
YOU'VE GIVEN ME TREATS AND GIVEN ME CARE
YOU'VE TOLD ME WHAT TO EXPECT WHEN I GOT THERE

SO PLEASE DON'T CRY, WIPE THE TEARS FROM YOUR EYE
I'LL LOOK DOWN UPON YOU WITH A WOOF AND A SIGH
I'LL GATHER MY COURAGE AND MARCH UP TO GOD
AND ASK HIM WHEN YOU GET HERE TO GIVE YOU A NOD
FOR YOU WERE MY MASTER AND YOU WERE MY FRIEND
AND I'LL BE WAITING FOR YOU AT THE RAINBOWS END

IN MEMORY OF MY FRIEND
ZEUS and RAMBO
_____________________________________________________________________

A DOG'S PRAYER

Treat me kindly , my beloved master,
for no heart in all the world is more
grateful for kindness than the loving
heart of me.

Do not break my spirit with a stick,
for although I should lick your hand between blows, your patience and
understanding will more quickly teach
me the things you would have be do.

Speak to me often, for your voice is
world's sweetest music, as you must know
by the fierce wagging of my tail when your
footstep falls upon my waiting ear.

When it is cold and wet, please take me
inside, for I am now a domesticated animal,
no longer used to bitter elements.
And I ask no greater glory than the
privilege of sitting at your feet beside
the hearth. Though had you no home,
I would rather follow you through ice and
snow than rest upon the softest pillow in
the warmest home in the land, for you are
my god and I am your devoted worshipper.

Keep my pan filled with fresh water,
for although I should not reproach you
were it dry, I cannot tell you when I
suffer thirst. Feed me clean food so
that I may stay well to romp and play
and do your bidding, to walk by your
side, and stand ready willing and able
to protect you with my life should your
life be in danger.

And beloved master, should the Great Master
see fit to deprive me of my health or sight,
do not turn me away from you. Rather,
hold me gently in your arms as skilled hands
grant me the merciful boon of eternal rest...
and I will leave you knowing with the last
breath I draw, my fate was every safest
in your hands.

________________________________________________________________

"DOGGIE PLEDGE"

I will not eat the cats' food, before or after they eat it. I will not burn rubber through the open car window and into the fast food restaurant, no matter how good it smells. The computer's mouse is, unlike a real mouse, inedible. I will stop trying to find the few remaining pieces of carpet in the house when I am about to throw up. I will not throw up in the car. I will scootch my bottom along the grass to rid myself of hangers-on. I will not steal used sanitary napkins from the bathroom garbage. I will not roll on dead seagulls, fish, crabs, etc. I will not eat other animals' poop. I will not lick my human's face after eating animal poop. I will not roll my head around in other animals' poop. Kitty box crunchies" are not food. I will not eat any more socks and then re-deposit them in the backyard after processing. The diaper pail is not a cookie jar. I will not eat the disposable diapers, especially the dirty ones. I will not wake Mommy up by sticking my cold, wet nose up her bottom end. I will not chew my human's toothbrush and not tell them. I will not chew crayons or pens, 'specially not the red ones, or my people will think I am hemorrhaging. When in the car, I will not insist on having the window rolled down when it's raining outside. I will not drop soggy tennis balls in the underwear of someone who is sitting on the toilet. We do not have a doorbell. I will not bark each time I hear one on TV. I will not steal my Mom's underwear and dance all over the back yard with it. The sofa is not a face towel. Neither are Mom & Dad's laps. My head does not belong in the refrigerator. I will not bite the officer's hand when he reaches in for Mom's driver's license and car registration. I will not play tug-o'-war with Dad's underwear when he's on the toilet. I do not need to suddenly stand straight up when I'm lying under the coffee table. I will not roll my toys behind the fridge. The garbage collector is NOT stealing our stuff. I must shake the rainwater out of my fur BEFORE entering the house.


__________________________________________________________________

"DEDICATED TO PEOPLE IN RESCUE"

I wasn't a pup when I came to your home,
I'd been dumped on the road, left to roam.
Don't remember the people except the pain.
They left me to die in the cold and the rain.
You were driving down the hwy, it was late at night
When you saw the faintest glimmer of light.
You took a chance and turned around
Got out of the van and knelt to the ground.
My quivering body felt the gentlest of hands.
I knew I need not make any demands.
In your heart, and your home, there was always room
For those who would face certain doom.
You healed my body and you healed my heart.
You gave me what I needed, a fresh start.
When I cried at night, you were always there
With soft words, a kiss, a hug to share.
When I misbehaved and would cower with guilt
You only showed love.....up to the hilt.
You loved and cared for me in sickness and health
Our love for each other was more precious than wealth.
Even when you were tired and had a bad day
You'd always come home to me and say,
"I missed you my baby. I'm glad to be back."
Then you'd give me kiss, a hug and a pat.
We'd have a nice dinner then go out to play
There was so much love I wanted to stay.
But my eyes, they faded and my heart grew weak
As my time grew closer you could not speak.
You held me tight, tears flowed from your eyes
We both had to say our sad good byes.
The release from pain we knew must end
No more time on this Earth would we spend
Running in the fields, playing ball
Sitting quietly together at the end of it all.
But our time together is not through
Because I'll be there waiting for you
At the edge of the Rainbow Bridge I'll stand
Until I once again see those gentle hands.
I'll ran to you with tail held high
We will never again have to say goodbye.
My love at death, it does not end
Because you are, indeed, doGs best friend.

Jeane Illsche
June 21, 1998
(Permission to reprint given)
______________________________________________________________________

"TEN COMMANDMENTS FOR A RESPONSIBLE PET OWNER"

l. My life is likely to last l0 to l5 years. Any separation from you will
be very painful.
2. Give me time to understand what you want of me.
3. Place your trust in me--it's crucial for my well-being.
4. Don't be angry with me for long, and don't lock me up as
punishment. You have your work, your friends, your entertainment. I HAVE
ONLY YOU!
5. Talk to me. Even if I don't understand your words, I understand your
voice when it's speaking to me.
6. Be aware that however you treat me, I'll NEVER forget it.
7. Before you hit me, remember that I have teeth that could easily crush
the bones in your hand, but I choose not to bite you.
8. Before you scold me for being lazy or uncooperative, ask yourself if
something might be bothering me. Perhaps I'm not getting the right food,
I've been out in the sun too long, or my heart may be getting old and weak.
9. Take care of me when I get old. You, too, will grow old
l0. Go with me on difficult journeys. Never say "I can't bear to watch
it" or "Let it happen in my absence." Everything is easier for ME if you
are there. Remember, I love you.

________________________________________________________________________

I ONLY WANTED YOU



They say memories are golden
well maybe that is true
I never wanted memories,
I only wanted you.

A million times I needed you,
a million times I cried.
If love alone could have saved you
you never would have died.

In life I loved you dearly,
In death I love you still.
In my heart you hold a place
no one could ever fill.

If tears could build a stairway
and heartache make a lane,
I'd walk the path to heaven
and bring you back again.

Our family chain is broken,
and nothing seems the same.
But as God calls us one by one,
the chain will link again.

______________________________________________________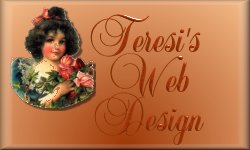 All Graphics are copyrighted by Teresi's Web Design Do NOT take any of these graphics or link to them on my server All pages are owned by Von Charisma's German Shepherds Do not ask for permission to use any of these graphics, they take hours of work.