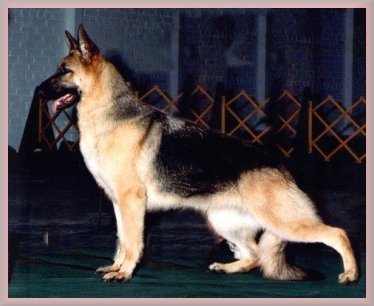 "Champion Von Charisma's Explosive Gem OFA"
~Torrie, finished her Championship "OWNER/BREEDER/HANDLED" from the BRED BY EXIBITOR class!!
She had that attitude we all want for a show dog. She was a great mom and producer. Torrie's son, "Ch. Von Charisma's Optical Illusion" OFA finished his Championship from the Bred By Exibitor class also!!
Torrie's other son, "Von Charisma's One Man Show" OFA has points towards his Championship. Odie has produced two Champions and one more close to finishing!!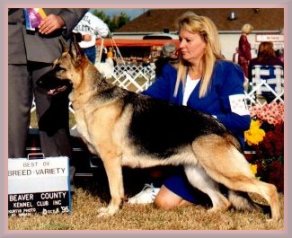 Best of Breed & Group 3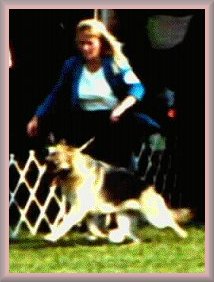 Torrie & me gaiting!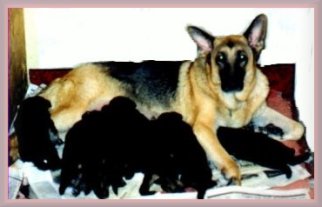 Torrie with her babies!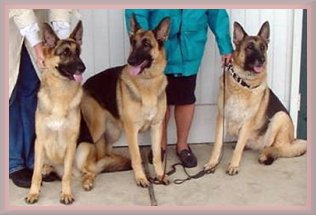 "Glori" (grandaughter), "Zoya" (daughter) & "Torrie"

Good-bye my beloved "Torrie"
I love and miss you
July 4, 1993 - May 18, 2003
Pedigree
Am. & Can. Ch. King's Hot Copy OFA
Ch. Amber's McCraken D'Lors OFA
Am. Can. GV. Ch. Prime Time of Billo
Amber's Dana

King's Phoenix Von Bleibtreu OFA

Sel. Ch. Proven Hill's Up N Adam ROM

.

Bleibtreu's Questa of Kaleef.

Covy-Tucker Hill Hyclass Gem OFA
BIS Ch. Bramblewood's Custom Made OFA ROM
Ch. Nochee's L Sting of Towaco OFA ROM
Diamond Jade of Bramblewood ROM

Covy-Tucker Hill's Tomboy Ily


Sel. Ch. Covy's Mazarati of Tucker Hill OFA ROM

Covy-Tucker Hill's Simba


Copywrite 2009 All images on this website are copyrighted and may NOT be used without expressed written consent of Von Charisma German Shepherds.