In tribute to our special girl...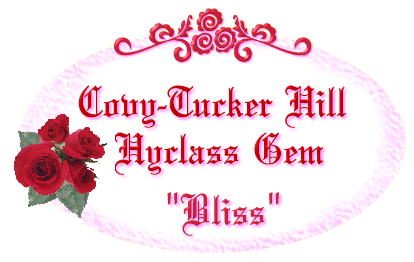 April 4th ,1990 - March 6th, 2000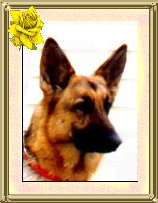 On March 6, 2000, my very special friend left me. No longer will she walk at my side, no longer will she stand by the refrigerator and beg for Bil-Jac bones which she loved. She won't be afraid of storms anymore and come running to me for protection. Bliss will be in my heart forever, I let my Bliss go, so that she would suffer no more. It was a sunny warm day here...on and off...clouds would appear... I wondered if there was a rainbow as she went to the bridge. God bless you, Bliss. I shall always love you. You brought so much joy in my life, you came into my life through fate and left me that way too. You leave behind your daughter and grandkids to carry on your beautiful spirit. Your brother "Sunny" reminds me of you so much, but he is strong and healthy.

Till we meet again my dear beloved "Bliss"....
Bliss at 18 months, a very happy girl!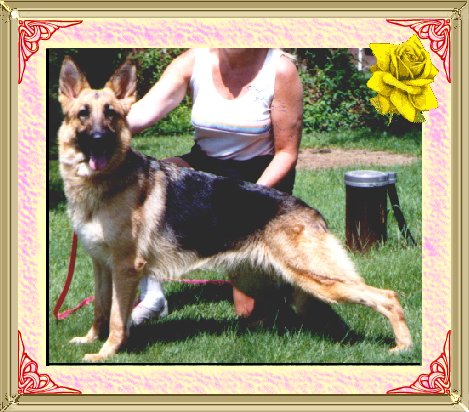 Ch. Bramblewood's Custom Made x Covy-Tucker Hill's Tomboy Ily


~~AT THE END OF THE RAINBOW BRIDGE
WHEN I WOKE UP THIS MORNING I FELT VERY ODD
I DON'T KNOW WHY , BUT I FELT CLOSE TO GOD
THE SUN WAS SHINING, THE BIRDS WERE SINGING
THE MUSIC WAS SOFT, THE BELLS WERE RINGING
AND ALL THE PUPPIES WERE ROMPING AT PLAY
WHAT A PLEASANT START OF A WONDERFUL DAY
I REMEMBER LAYING DOWN TO TAKE A NAP
I REMEMBER I HAD MY HEAD IN HER LAP
I REMEMBER THE SAD LOOK IN HER EYE
I REMEMBER I HAD NEVER SEEN HER CRY.
I REMEMBER I WANTED TO ASK HER WHY
I REMEMBER HEARING HER SAY, "GOOD BY"
I WANTED TO SAY, DON'T CRY FOR ME
I WANTED TO SAY, JUST REMEMBER ME
I WANTED TO SAY, I REMEMBER THE TOYS
I WANTED TO SAY, I REMEMBER THE JOYS
I WANTED TO SAY, I LOVE YOU SO MUCH
I WANTED TO SAY, HOW I LOVED YOUR TOUCH
OH PLEASE LET ME HUG YOU
OH PLEASE LET ME KISS YOU
OH PLEASE LET ME TELL YOU
WHAT AN ANGEL YOU'VE BEEN
OH PLEASE LET ME THANK YOU
FOR SHOWING ME HIM
I KNEW WHEN I WOKE UP, THERE'D BE NO PAIN
I KNEW IF I WANTED, I COULD PLAY IN THE RAIN
I KNEW THAT I WOULD REMEMBER
THE LOVE YOU GAVE ME FOREVER
YOU'VE TAKEN CARE OF ME ALL MY LIFE
YOU'VE GUARDED ME FROM TROUBLE AND STRIFE
YOU'VE TAKEN CARE OF ME THRU GOOD AND BAD
YOU'VE ALWAYS STOPPED ME FROM FEELING SAD
YOU'VE GIVEN ME TREATS AND GIVEN ME CARE
YOU'VE TOLD ME WHAT TO EXPECT WHEN I GOT THERE
SO PLEASE DON'T CRY, WIPE THE TEARS FROM YOUR EYE
I'LL LOOK DOWN UPON YOU WITH A WOOF AND A SIGH
I'LL GATHER MY COURAGE AND MARCH UP TO GOD
AND ASK HIM WHEN YOU GET HERE TO GIVE YOU A NOD
FOR YOU WERE MY MASTER AND YOU WERE MY FRIEND
AND I'LL BE WAITING FOR YOU AT THE RAINBOWS END
IN MEMORY OF MY BLISS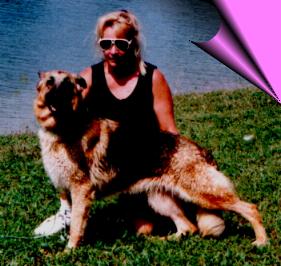 This page was specially designed for Von Charisma Shepherds. All graphics excluding the animated flowers belong to Von Charisma Shepherds and nothing may be used without permission. Copyright 2000.