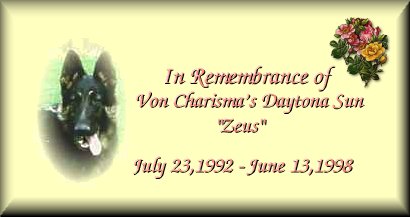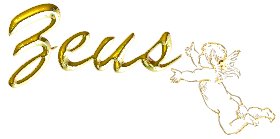 "Zeusie", as I always called him
was a pleasure to live
with, he was a big MOMMA'S boy!!!
I always felt
sorry for whoever had to
hold him at ringside for me,
he wanted MOM so much!!!!
"Zeus" was always the
first to greet me every morning
with his bark, saying
"Good Morning". He always new
when I was going
to a dog show and if it wasn't his
turn to go, he would literally cry out.
I lost "Zeus" to bloat within 5
hours he was gone. Treasure the
time you have now with your dogs
because you NEVER know what can happen.
I will miss you DEARLY for there was only one

July 23,1992 - June 13,1998


VON CHARISMA'S DAYTONA SUN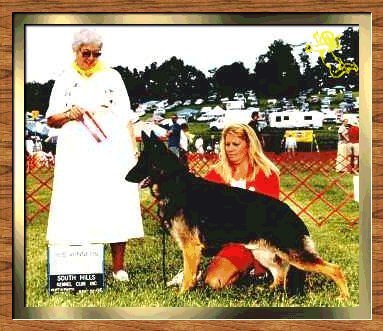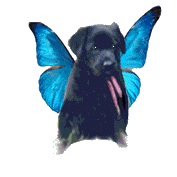 Our pets are part of the family
a sibling to us all,
They love us unconditionally
even when we fall.
They are by our sides through thick or thin
with everything we do,
Their love for us is defiantly
a love thats always true.
It doesnt matter to our pets
if our moods are out of swing,
Their still right there beside us
with happiness to bring.
They remain faithful and loyal companions
until the very end,
I will love you and miss you my sweet Zeus,
My adoring little friend!
Written by: Theresa A. Niksick
From Teresi's Web Design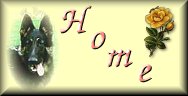 Copyright ©1998 Teresi's Web Design
All Rights Reserved
All Graphics are copyrighted by Teresi's Web Design
Do NOT take any of these graphics or link to them on my server
All pages are owned by Von Charisma's German Shepherds.