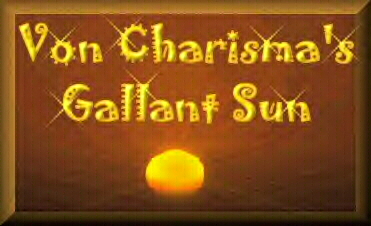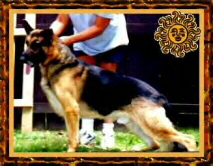 "ACE"
We are VERY happy to have Ace back home. His former owner could no longer keep him. Ace has a excellent temperament, with a plush coat. He is a big boned dog with a hard back and takes a nice long stride. Ace is proven and his pups seem to carry his traits.
Ace, passed away at the age of 12 1/2 yrs. old, like his father, "Covy-Tucker Hill Hyclass Sun" he lived a long healthy life.
We miss them both..
Pictures of Ace at 12 1/2 yrs old. below.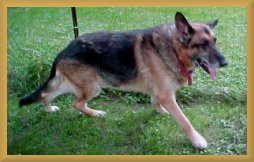 Von Charisma's Gallant Sun's
PEDIGREE

Sire
Covy-Tucker Hill Hyclass Sun OFA

13 AKC Points, 1 Major

Sire
BIS Ch. Bramblewood's Custom Made OFA ROM
Sire
Ch.Nochee's L Sting of Towaco OFA
Dam
Diamond Jade of Bramblewood ROM
Dam
Covy-Tucker Hill's Tomboy Ily
Sire
Sel. Ch.Covy's Mazarati of Tucker Hill OFA ROM
Dam
Covy-Tucker Hill's Simba
Dam
Ken-Delaine's Alvita

9 AKC Points

Sire
Ken-Delaine's Primero V Omni OFA ( Brother to Sel. Ch. Avia)
Sire
Sel. Ch. Nike Clayfield Andretti OFA ROM
Dam
Ch. Janry's Givency OFA ROM
Dam
Bramblewood's Diedre V Nochee OFA ROM
Sire
Ch. Nochee's L Sting of Towaco
Dam
Diamond Jade of Bramblewood ROM