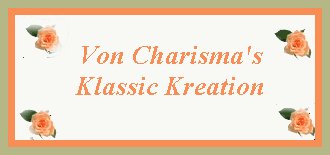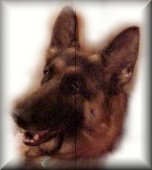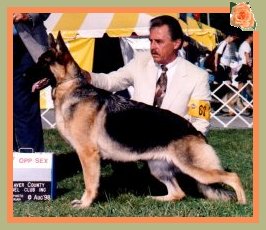 Kelsey has retired from the Show Ring with 6 Points and a 4 Point Major.
Kelsey has a wonderful sound temperament and loves everyone!
She has rich red pigment with a plush coat, good bone and a strong short back.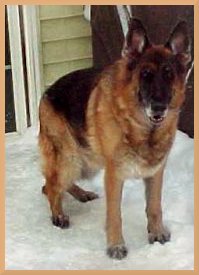 Kelsey at age ""12"" Jan of 09!!

Parents
Grandparents
Great-Grandparents
CH Autumn's Tucker of Seminole
Sel. Ch. Breauhausen's Red October OFA
Sel. Ch. Timberlane's Jakata
Sel. Ch. Breauhausen's Danielle
Ch. Autumn's Satin Whisper
Ch. Covy-Tucker Hill's Candyman
Dolmar's Felicia
Kridler's Meisha Weight OFA
Ch. TR's Super Glide V kenlyn OFA
Ch. Pinebeach's Stars N Stripes OFA ROM
Ch. Jerland's RosalitaV TR
Ch. Kridler's Sweet Sunshine OFA ROM
Covy-Tucker Hill Hyclass Sun OFA
Samantha Tarrick of Nordicht
~~~~~~~~~~~~~~~~~~~~~~~~~~~~~~~~~~~~~~~~~~~~~~
Site Index

All pictures and graphics are owned by Von Charisma German Shepherds.